The Indissociable - Make up Remover Duo (2x200ml)
£35.00
The Indissociable - Make up Remover Duo (2x200ml)
SUMMER OFFER: THE MAKE-UP REMOVER DUO

For this spring, we have released a box signed on the theme of 60 years of the brand but with a much more summery look. This box is originally intended for the Mother's Day offer in France and given its success we decided to propose it as a spring offer for your different markets.

Contains 1x 200ml Cleanser and 1x 200ml Tonic. Normal price for each product is £23.73. Comes in a beautiful pink well presented gift box with reusable cotton pads. Would make the ideal gift.

Special price of £35.00. (Normally £47.46)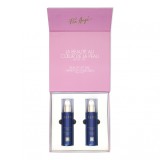 Beauty Oasis Tip:
On dry skin, emulsify the milk and gently massage to the face and neck. Rinse off with lukewarm water or take off with Gentle Lotion. Leapsal TONIC to complete the make-up removal.
You May Also Like